March 12, 2023
Carta Rallye – 7th Edition
00
Days
00
Hours
00
Minutes
00
Seconds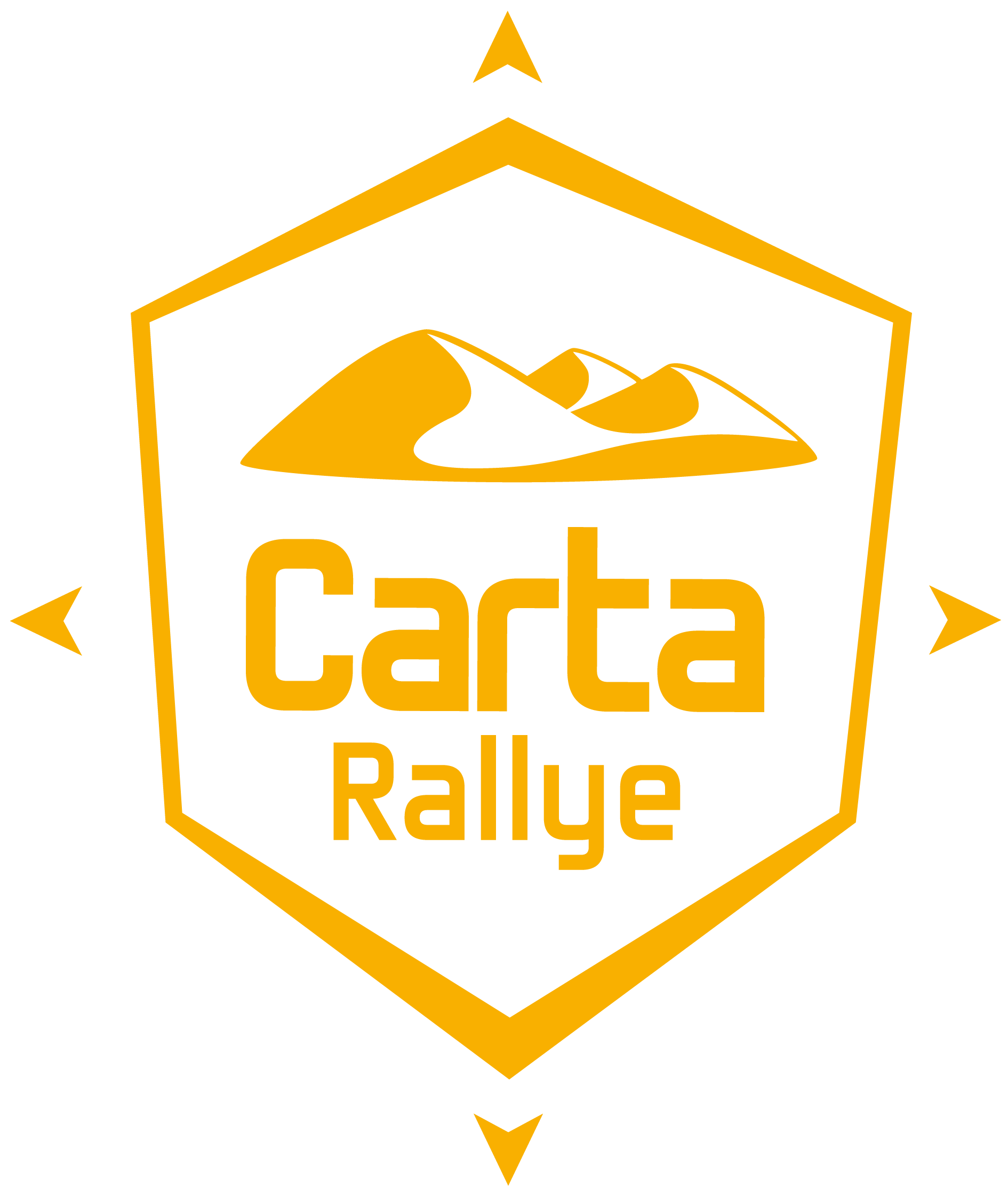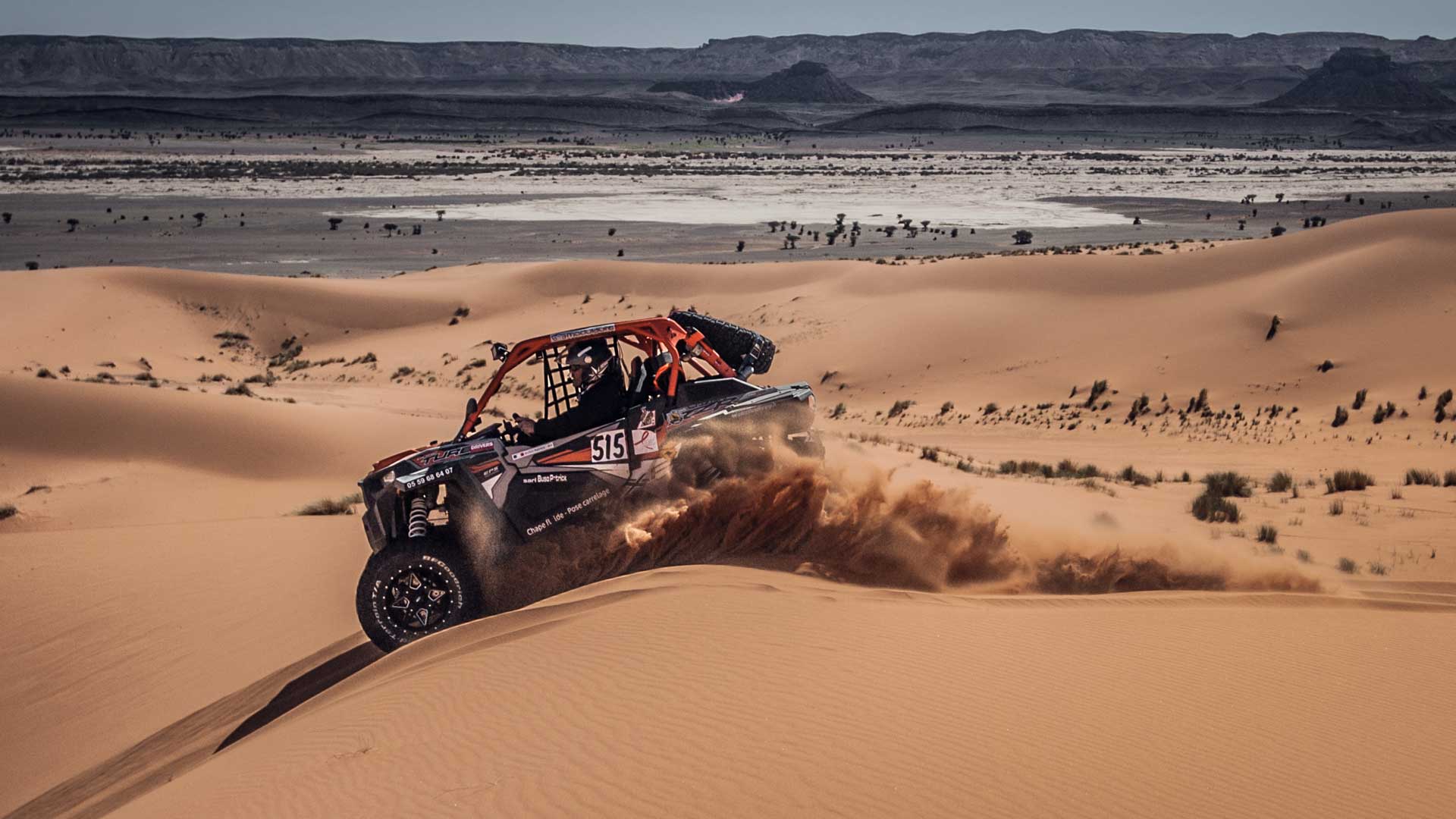 Carta Rallye - 7th Edition
For the 7th edition, the big change will be the introduction of motorbikes and quads. We feel confident that with our helicopter, a reinforced medical team and our new Stella tracking system we will be able to offer all riders maximum safety.
For our historic classes, we make changes to our course so that heavy dune sections are not included to accommodate the age and cooling capabilities of the historic cars.
As we have done in previous editions of the Carta Rallye we will have mandatory refuelling points every 100kms for all competitors. Those not needing to refuel will still be required to stop for 15 minutes.
Description…
> 7 days of racing from Atlantic coast to the dunes of Merzouga
> A night stage
> Dunes and technical tracks
> Minimum liaisons
> 2 nights at the luxury hotel Oasis Palm in Guelmim, 3 nights in your own tent in bivouacs and 3 nights in berber tents at the luxury hotel Nomad Palace in Merzouga
The course is specially designed for SSVs because there are no trucks, cars or bikes in the race
> A course validated by professionals  co-drivers with an international experience
> A helicopter for your safety
> Medical team with 4×4 ambulances
>  Vehicle recovery team with return to tarmac 
> Refueling during the stages*
*Not included in the registration fees
The course
Enjoy 7 days of racing from the famous Plage Blanche, along the Draa valley to Erg Chegaga for some dunes racing, and onto Merzouga for 2 days  with lots of dunes and technical tracks.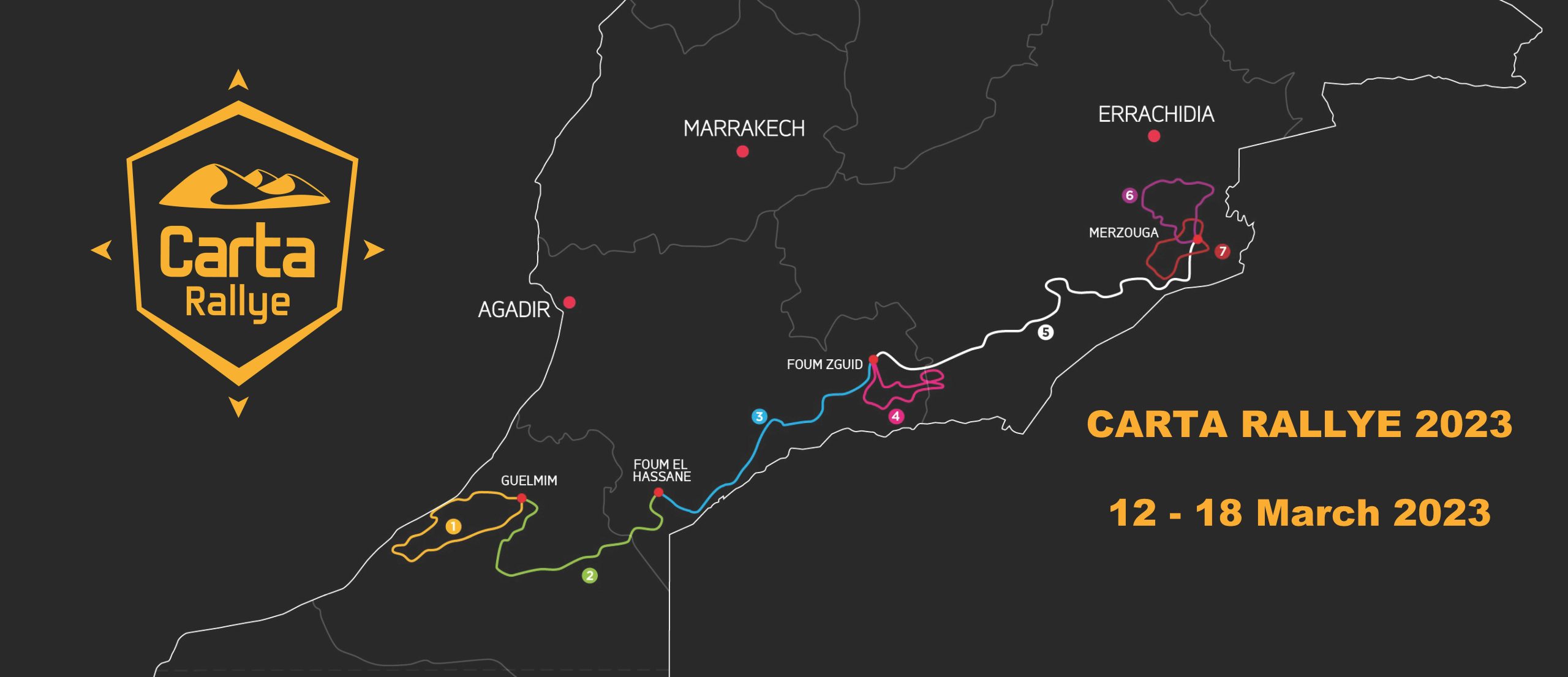 Saturday March 11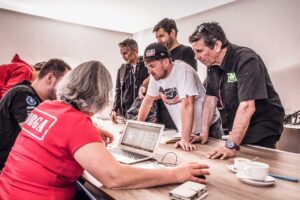 Technical and administrative checks – Guelmim
Hôtel Oasis Palm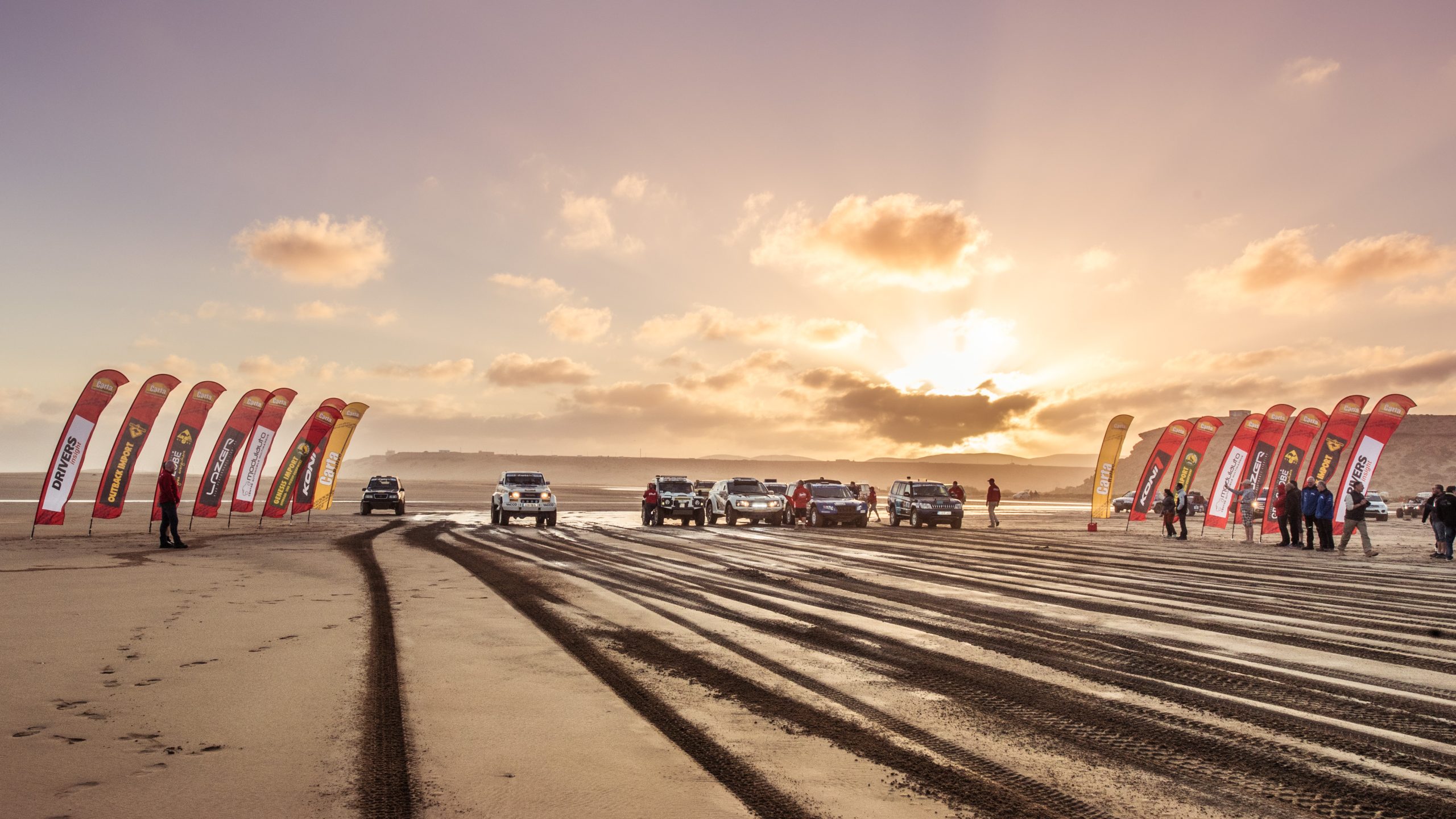 Sunday March 12 - Day 1
Guelmim – Guelmim
Hôtel Oasis Palm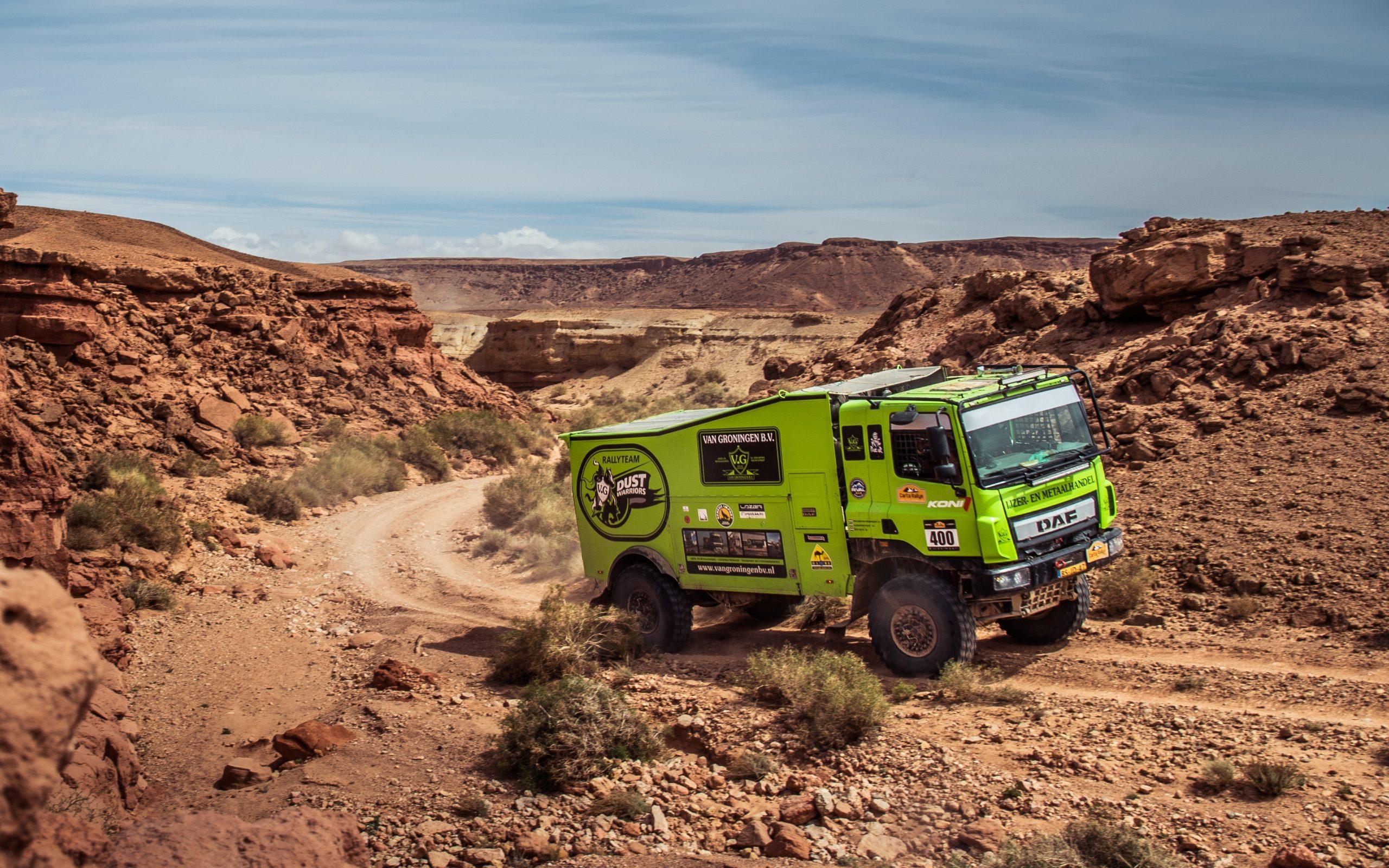 Monday March 13 - Day 2
Guelmim – Icht
Own tent at Borj Biramane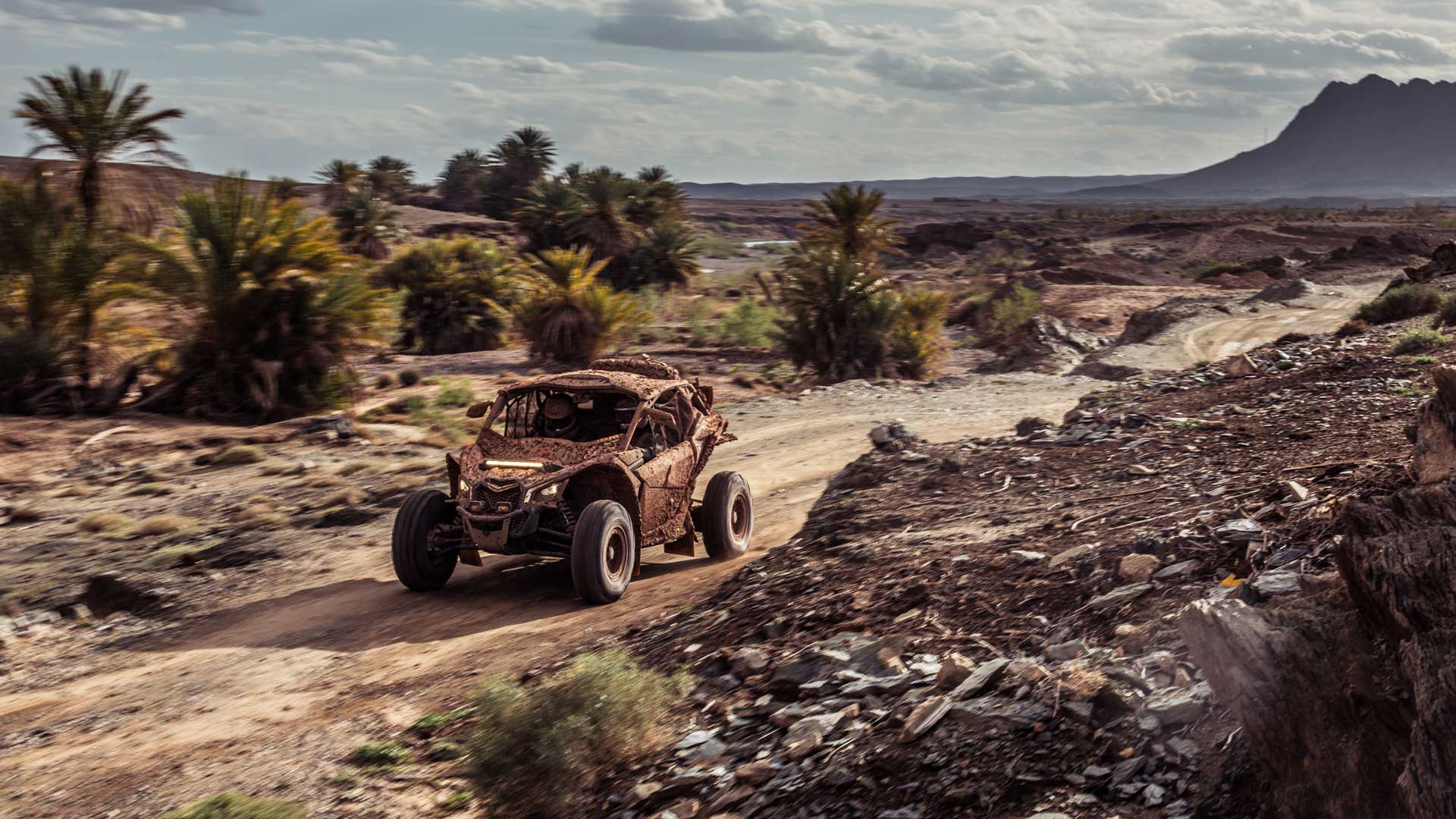 Tuesday March 14 - Day 3
Icht – Foum Zguid
Bivouac in own tent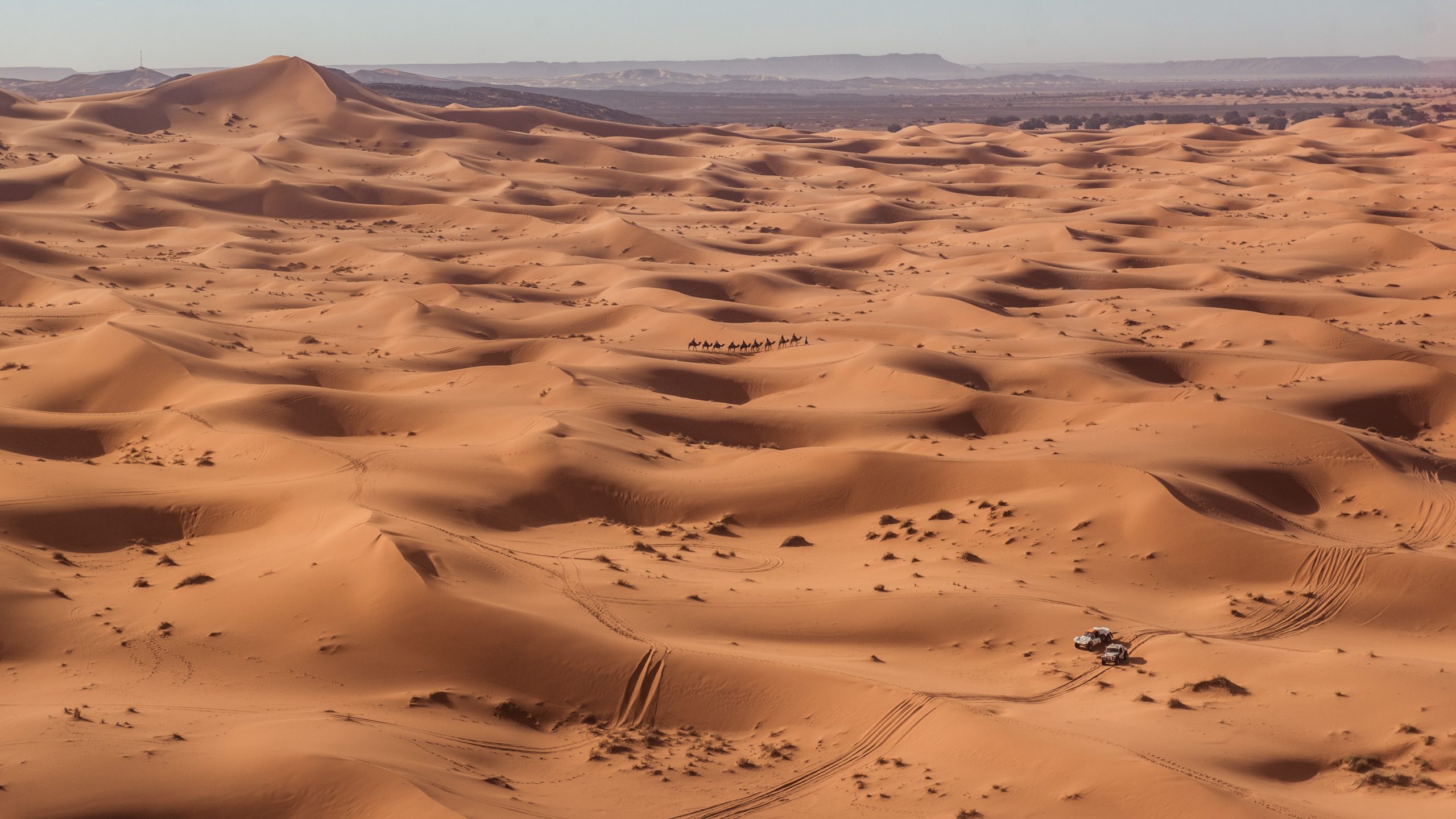 Wednesday March 15 - Day 4
Foum Zguid – Foum Zguid
Bivouac in own tent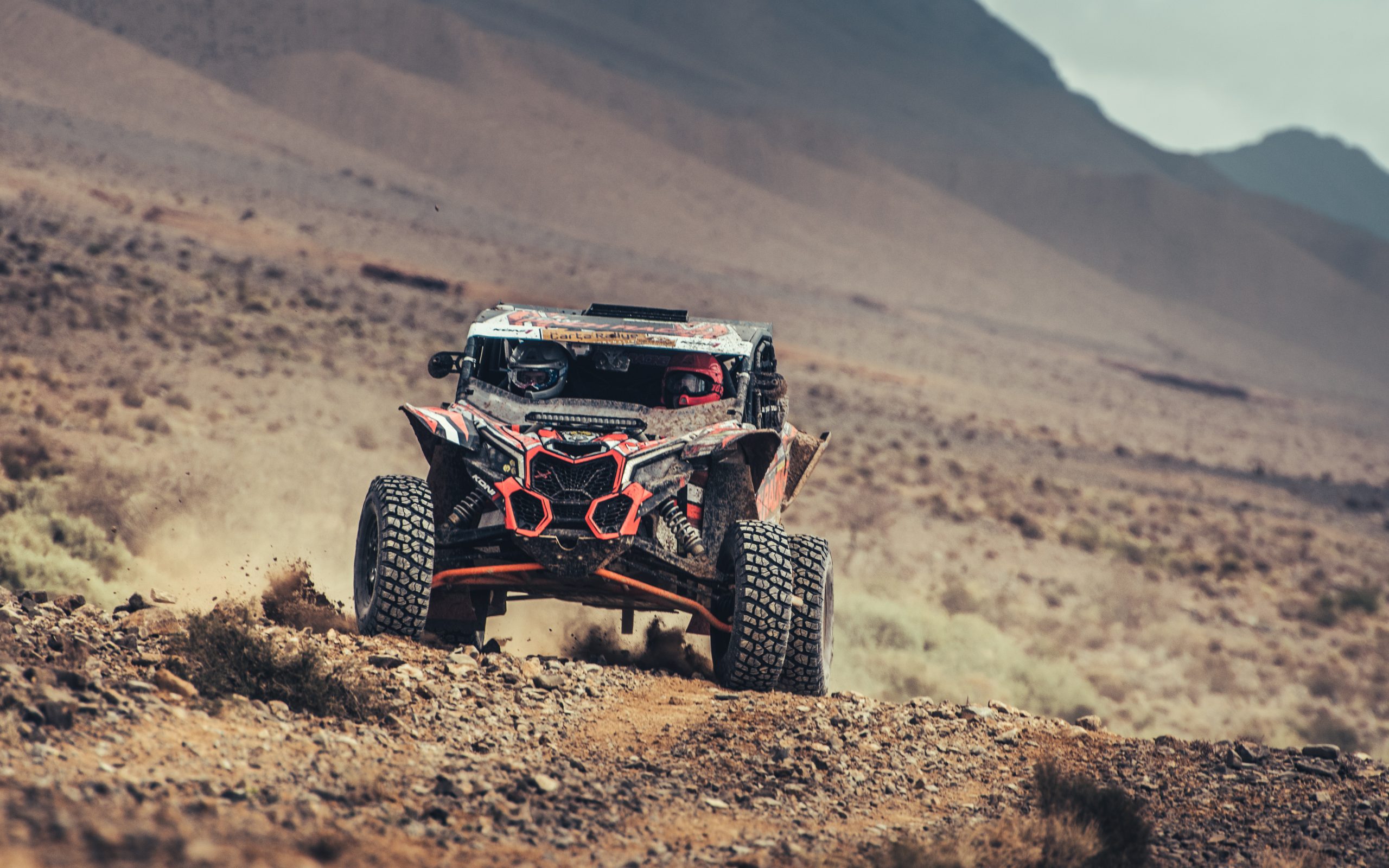 Thursday March 16 - Day 5
Foum Zguid – Merzouga
Hôtel Nomad Palace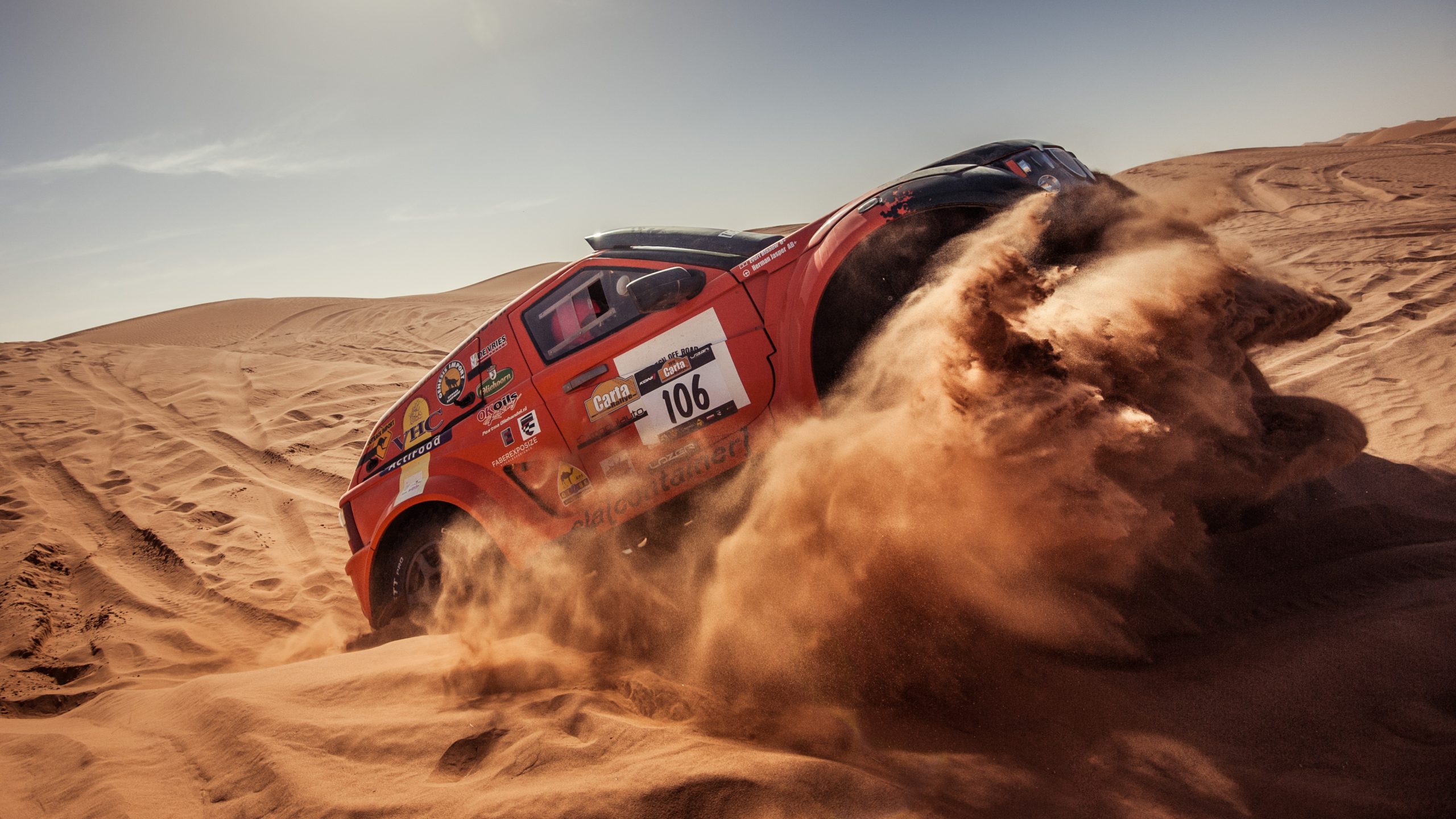 Friday March 17 - Day 6
Merzouga – Merzouga
Hôtel Nomad Palace

Saturday March 18 - Day 7
Merzouga – Merzouga
Award ceremony party
Hôtel Nomad Palace
Cross Country
A "Classic Rally Raid" in Morocco!
Open to motorcycles, quads, SSVs, 4x4s, trucks and 2WD buggies.
Classic roadbook with navigation sections. Our roadbooks will be validated by our race director, Sebastien Delaunay, professional rally-raid co-driver.
Our new Stella Evo 3 tracking system, used on our Baja SSV Morocco and in the FIA ​​Bajas World Championship, allows us to offer all our competitors maximum security.
For 2023, we will start on the magnificent Plage Blanche, discover the region of Tan Tan, go up the majestic Draa Valley, cross the dunes of Chegaga and finish with two days to discover the region of Merzouga, with its large dunes and its technical tracks.
A race with more than 2,000 km of specials with few liaisons and a classic roadbook that will introduce you to the diversity of Morocco's terrain.
A varied, fast but also technical course to give everyone a chance for a good ranking.
New for 2023:
Motorcycles and Quads: Following an identified request, and thanks to our medical device reinforced by a helicopter and a Polaris Ranger ambulance, we will have motorcycles and quads on the Carta Rallye.
Our motorcycle roadbooks will be validated by Jean Brucy, a biker with an impressive track record in rally raid and Dakar.
Historic Category:
We were the first rally raid with a timed historical category. We are not a regularity event.
We will again have a double historical ranking, with a course with "light" dune sections to take into account the age of the vehicles:
Pre-1990
1990-2001 with "light" dune sections
GPS CUP
The GPS Cup is a unique concept of on- and off-road GPS navigation.
You enter the points (geographical coordinates) given by the organization into your GPS.
You navigate from point to point ("virtual beacons") located on and off the slopes according to your chosen navigation strategy.
GPS Cup does not rhyme with simplicity! This race requires strategy, reflection, concentration and intuition to find the best course.
Your challenge is to reach the end of the course each day in a given number of hours, while trying to cover a minimum of km. You will have to alternate "tracks" and "off-road driving" to find the right balance between speed and distance traveled (approximately 120 – 150 km in
10 hours maximum per day).
You can choose between 2 categories: GPS Expert and GPS Adventure.
For novices, we will be able to offer you theoretical and practical GPS training in France in the coming months.
Registration fees: Before 1st January 2023
Registration fees: After 1st January 2023
What's included:
7 days of competition in Morocco

half-board for 7 days racing and 2 nights in hotel + 3 nights in berber bivouac (for competitors) 

Prize giving party/dinner

Organisation public liability insurance

Roadbooks

A gift
What is not included:
The transfer of the competitors and the vehicle to the




start of the event and return

The vehicle and its insurance

Medical repatriation insurance (compulsary)

Rental of the tracking system (400€)

Mechanical assistance

Fuel

Lunches

Drinks
Logistics:
To make participation at the Carta Rallye easier, we will organise transport solutions for all type of vehicle and equipment.
For motorbikes we will also have service/transport artners offering a Male moto service.
There will be different collection points in Europe.
The transporters will collect the vehicles, deliver them to the start, stay at the event and then bring the vehicles back to Europe.
Participants:
We can organize transfers from the airport to the hotel for all participants. We can also organise accommodation in Agadir before  the event via our local partner travel agency.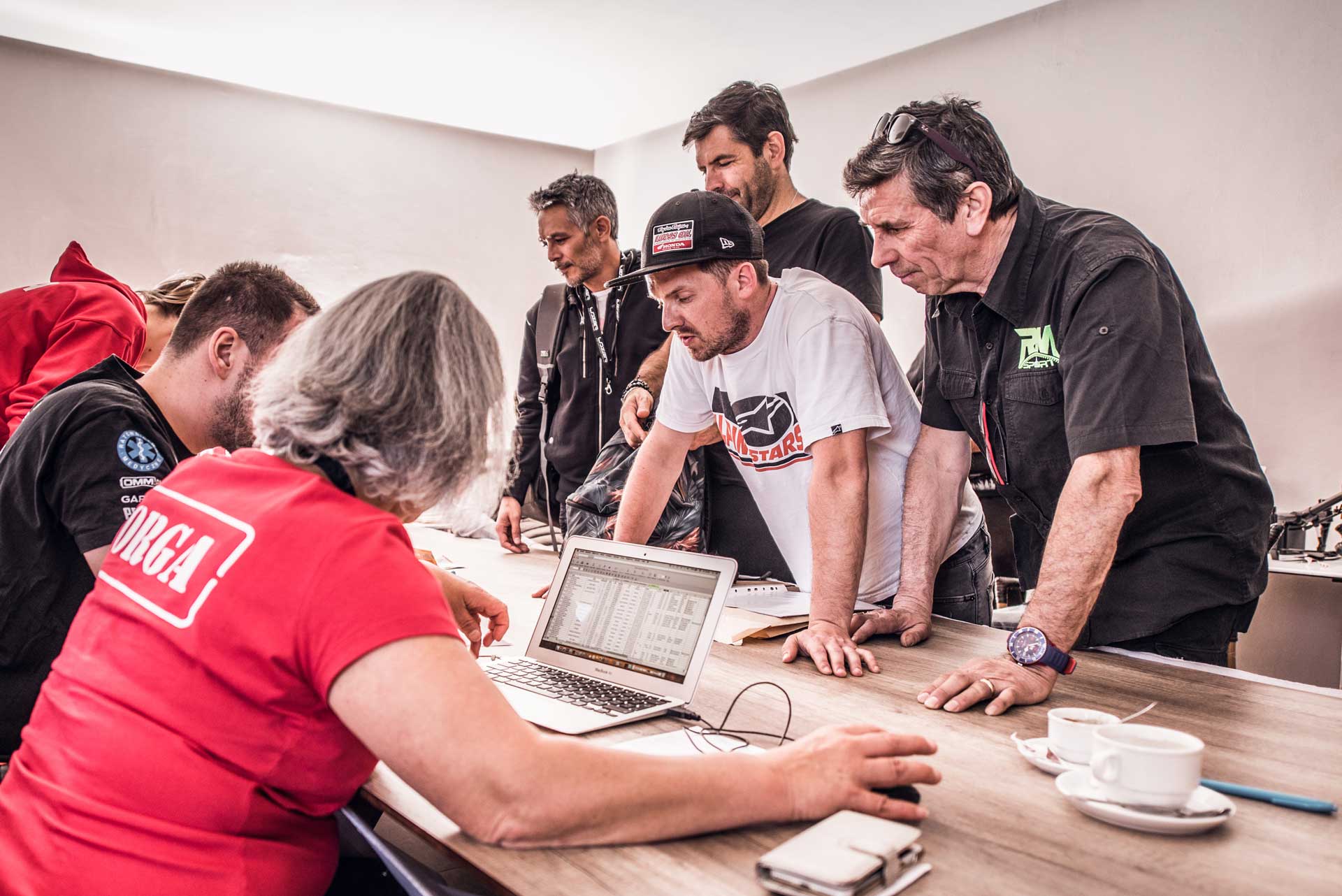 Safety and medical plan
Stella Evo3 tracking system as used in the FIA Baja World Championship

A Helicopter

Team of European and Moroccan emergency doctors

Two 4×4 ambulances

A Polaris Ranger ambulance

A road ambulance

Recovery team (return to the tarmac)

Collaboration with the Moroccan authorities for all security aspects
Registrations are now open! For more information and registration forms contact:
Chris Armelin
+44796620771
ca@rallye-carta.com
Registrations close on 12th February 2023